Historical And Heritage Tours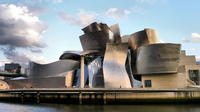 Guggenheim Bilbao Inside and Outside Tour
Historical & Heritage Tours
Price $84.32
Learn about the history of the Guggenheim Museum and explore the modern artwork it houses'inside and outside the building'during this 90-minute guided tour. Admire the stunning architecture of the Frank Gehry-designed building, and learn from your guide why Bilbao was chosen as its home.'Walk through the museum'galleries, atrium, and terrace'as you get to know the most important works of the museum'in its rotating and permanent collections.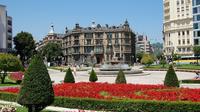 Bilbao Architecture & History Tour
Historical & Heritage Tours
Price $67.23
After demolishing the walls of the villa, the bourgeoisie begins to expand , crosses the bridge and built in the central Via of the modern city . Meet the families who lived in the great palaces of the Gran Via . The progress of the villa seen from we pass the bridge to the new buildings of the twentieth century. Meet the traditional txikiteo or poteo hand. Explore the most traditional bars in the area.